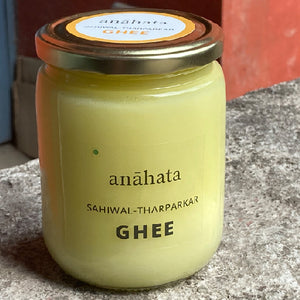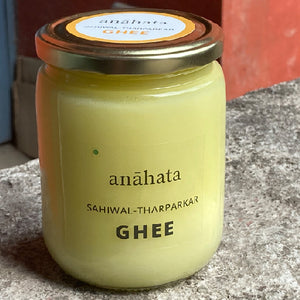 On Sale
Sahiwal-Tharparkar Ghee
The first batch of Beniwal-Sahiwal-Tharparkar Desi Cow Ghee has arrived from Aangirasa Antarvediya Gurukulam (AAG).

The Gaushala of AAG carries 25 cows that our students tend to lovingly. Staying in the midst of daily Veda Path and Shrauta Karma these cows live free, and move around the campus as they please.

The cows are fed organic grass & fodder grown on gurukulam farm. All Gotra injunctions and only natural impregnation are followed. Old cows remain with Gaushala and are not 'disposed' off.

The calves are fed 2 teats of milk and only other two teats are milked for our student's daily consumption. The surplus is produced and sold as ghee.

This ghee is made with old Vaidika process of curding in containers, churning and extracting butter with bilhona and then 6 hours of slow heating on gomaya with a paan leaf.

Resulting Ghee has strong aroma and medicinal properties to alighting fire in you - called Jatharaagni. The Ghee being source of sapta agni or 7 fires - is good for memory, eyesight, intelligence, hunger and sattva.

We hope you like this ghee, totally different from the Ghee sold in market where what is sold is aggregated from vendors who further aggregate milk from wherever they can get.
   ——— Vaidika Gurukulam Gaushala Ghee Has Following Features ———
- Cows are never artificially inseminated

- Cows mix with Bulls of not same family line. Gotra separation is maintained.

- Natural semination cycles are longer when cow feels ready from previous calf birth

- Calf Gets Half. Two teats are reserved for the calf and milk only taken from other two.

- Cows are fed grass free from insecticides, pesticides or chemical fertilizers

- Quite often they are fed special treats like herbs, boiled wheat, gur & edible oils

- They move freely , unlike tabelas

- Cows are never sold. Old cows are taken care of.

- Bull calfs are not sold. They are taken care and transferred to known Gaushalas for studding

- Milk itself is used for students and surplus is made into ghee

- Ghee is not made by separating cream but Vaidika Bilhona process of curd to butter to melting butter process

- No aggregation. Unlike tabelas and cattle farms that often aggregate milk from farmers no mixed milk here.

- Our milk will never ever have buffalo or goat milk mixed because these animals are not allowed in Veda Paathshala

- Making of Ghee is manual and butter is melted over gomaya for 6 hours at very slow burn

- Nothing artificial - taste or smell enhancers or colours is never added.

- A little vanaspati like turmeric, a branch of Shatavari plant, paan leaf is added while melting butter.

- Gau Mutra or Cow Urine is NOT added or is not a part of the ghee making process. It's a false notion.