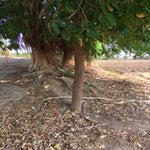 "Do well and live earnestly"

 

        Εὖ πράττειν καὶ Σπουδαίως ζῆν.

#Epicurus
As one advances sufficiently in age, one notices an ebb & flow in events of life. It needs a little pause to notice those. Something in those phases gives us a temporary layer of personality. And then the phase changes. All along a layer remains beneath that we started as a sure idea of us, but over time just remains our idea of us that we struggle to live upto and then give up. Or not.
The ancients remain my guide into periodically pausing to take a look around. Much like greeks — follow the sequence of studies, war, business, public service and finally retiring as philosopher.
Here is a place i will soon start building to pause myself and take a look around more often. Soon.